Size your new resizable layout for maximum compatibility:
Make the layout no more than 600 pixels wide.
Therefore, no single object (banner, horizontal navigation bar, inline graphic) can be wider than 600 pixels.
Don't worry; this is not as limiting a factor as you might think. Remember, the page will rewrap and grow in width with the browser window.
When you assemble the page layout that you will convert to a relative-width table, remember John's important tip:
Keep it simple.
Don't have lots of extra empty table cells or rows.
Extra table code bloats the file unnecessarily, and can make old Netscape version 4.x browsers crash.
Instead of lots of empty spacer cells to add special layout to the table, adjust the table properties later.
To avoid creating an overly complex table structure when you create your test page layout, do this:
Make all the pieces touch, but not overlap.
Use the arrow keys to move individual items into contact with each other.
As soon as you see a red "!" icon, objects have overlapped. Back the encroaching object away just enough to make the overlap warning icon go away.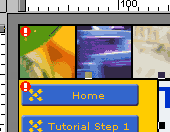 You don't want to see any of these red exclamation mark icons!
You also don't want white space between the objects: that complicates the table structure.