Showing and Hiding Palettes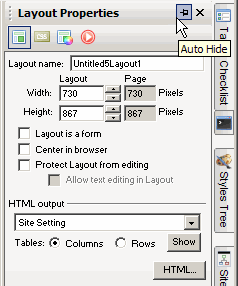 All of the palettes and component toolbars have an auto hide feature. They can be moved to any of the 4 sides of the work space (top, bottom, left or right) and can be made to disappear when not needed freeing up more workspace.
The thumb tack in the title bar of the component is where you enable or disable the auto hide feature. When on its side

the pallet will auto hide when you mouse off, when it is right side up
the palette will stay visible at all times
You can detach any palette from its docked location by first disabling auto hide (thumbtack pointing down) then grabbing the palette title bar and dragging it into the workspace. To re dock any detached palette double click in the title bar and it will automatically be docked to the side of your work area.
When the palette is returned to its docked position and auto hide is enabled the palette will be represented by a tab at the side of the workspace. To bring the palette into focus just mouse over the tab at the side of the workspace.
Did you find this tutorial useful? Would like to view all of our tutorials and support pages?
Join the NetObjects Fusion Users Group Community