NetObjects Fusion from version 8 on now has user selectable built in optimization of all auto generated images.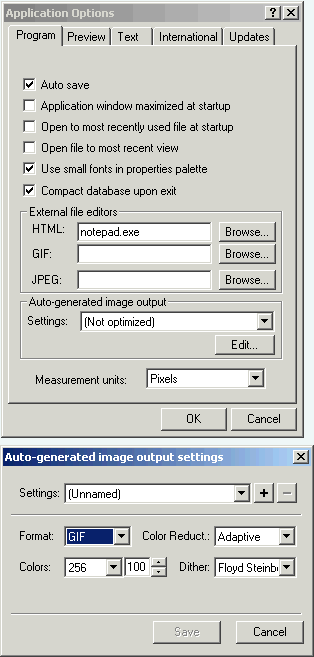 You now have control over the compression settings for all auto generated images.  From the  Menu bar selection choose:
 Tools > Options > Application
This will bring up the somewhat familiar application options palette.  You will notice that there is a new section titled Auto-generated image output. You can select from a drop down menu the option that you want to use for the auto generated images (banners and buttons)
If you click the Edit button it will bring up the Auto-generated image output settings dialogue box where you can create your own compression settings that you can apply to all of your web sites banners and buttons
Note: This is a APPLICATION WIDE setting and will be applied to EVERY autogenerated image created on EVERY site you create.
Did you find this tutorial useful?
Do you want to keep this resource online?
Make a donation to keep gotFusion alive
This page was written by and is maintained by turtle