NetObjects Fusion has a very little know but extremly powerful user defined variables feature.
To access the variable feature click the Assets Icon in the Tool bar, then select the variables tab
To create a User-Defined Variable asset that you can use anywhere on your site project pages, from the Menu bar select Assets > New User-Defined Variable
Then fill in the information in the dialogue box for a name for the variable asset and the content you wish to display when this variable is selected and placed on a page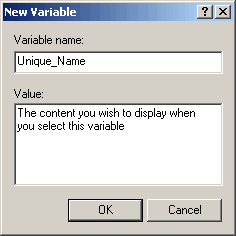 The best use for the NetObjects is with a line of text within a MasterBorder that might change frequently such as a copyright notice.
One of the best usage for the variable feature is to place all of your copyright information or to use it where content may change frequently such as contact information or e-mail addresses.
To place an User Defined Variable asset that you have created first click within the page where you wish the variable to appear and from the Menu bar select Text > Insert Field
Then from the dialogue box drop down select User Defined Variable then select the variable from the list that is presented.
The advantage to using User-Defined Variables is similar to that power that MasterBorders gives you except you can place a User-Defined Variable anywhere with your pages and when you update the variable content from assets view the next time you regenerate your web site every page that has that variable on it will be updated with the new content.
Did you find this tutorial useful? Would like to view all of our tutorials and support pages?
Join the NetObjects Fusion Users Group Community
This page was written by and is maintained by turtle