Click the Style View Icon to go to Style View
Click the Selectors Tab.


Scroll down to the BODY listing and click on it. Body is the last item in the list
Click on the text under the Body statement so that a box appears around it showing you are in the Body tag.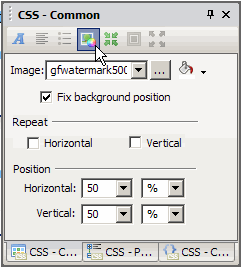 Select the Background Icon to display the background properties palette.
Click on the button next to the background drop down then browsing to the image you wish to use. To have the background image center and float while the page contents scrolls ckeck Fix Background Position and uncheck both Repeat boxes you can have the image float in the center of your page while text scrolls past by selecting 50% from both positioning drop downs.
You can set the background color of every page by clicking the paint bucket and choosing a color.
The background image you selected will appear centered on every page of your web site
Did you find this tutorial useful? Would like to view all of our tutorials and support pages?
Join the NetObjects Fusion Users Group Community