You can customize all of the Version 10 toolbars to your own work preferences. Add your own tools, combine toolbars, anything you wish so that you can have a completely customized work space.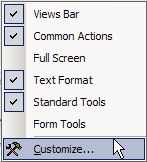 Right click anywhere in the toolbar area to bring up the properties palette
Here you can add and remove toolbars from the View you are in.
To customize the Tool bar select the Customize option
Customizing Tool Bars: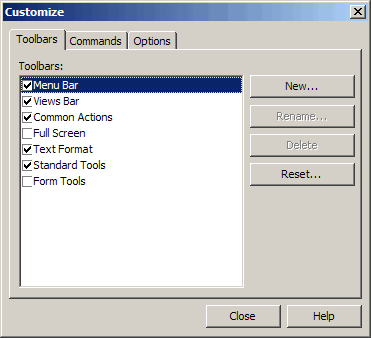 From the Toolbars tab you can uncheck any of the toolbars that you do not wish to show or that you do not use to give you more space.
If at anytime you find that you want to return to the default settings you can click the Reset button to clear any customizations to your toolbars.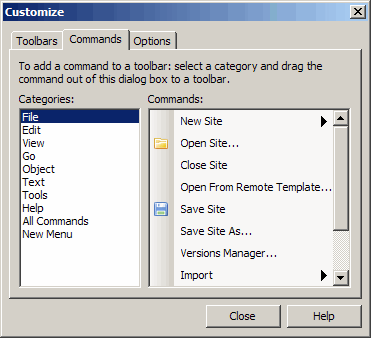 From the Commands tab you can select any command and add it to any toolbar.
locate the command you wish to add by selecting the category of the command then locating the actual command
left click and drag the command from the commands list to the toolbar you wish to add it to and it becomes part of that toolbar
To remove a command left click on it in the toolbar and drag it anywhere outside of the tool bars and release the mouse button.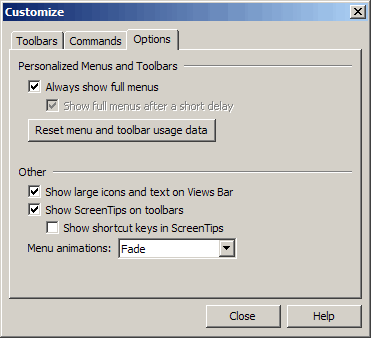 You can toggle on and off large View Icons with descriptive text
Selecting Show Screen Tips on toolbars will show a descriptive text when you mouse over the icon. This is helpful if you have small icons with no text as hovering over any icon will show what it does
You can also have the keyboard short cuts display in the tool tip when you hover. This is very useful to get you familiar with all of the keyboard shortcuts for functions like CTRL + S for save.
Did you find this tutorial useful? Would like to view all of our tutorials and support pages?
Join the NetObjects Fusion Users Group Community