Page Tab:
Page Name: You can change the name of the html page by Changing the default name. Page names should be short and descriptive. Fusion will automatically replace any space or special character (!#$*%) with an underscore _
Page Title: The page title is what is displayed in the top bar of a web browser. It is also used by search engines when displaying a synopsis of the page. Page titles should be no more than 255 characters and be descriptive of what the page is about.
MasterBorder: You can apply any MasterBorder to the selected page from the drop down box.
Custom Names:
By clicking on the Custom Names button you can give the Navigation Button and Banner a different name from the page name.
File Extension: You can select a file extension for the selected page from the drop down or directly enter in one that is not on the list
Working with several pages: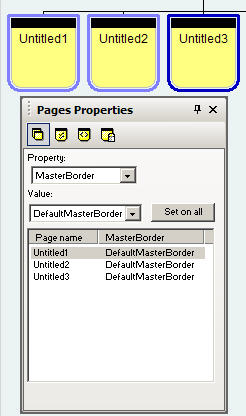 By holding the Control Key and clicking on page icons you can select several pages of your site project to work with. You can then change the properties on all of the pages at the same time.
Property: This option will allow you to select a property so that you can change it on several pages at once.
Example: Select MasterBorder as the property, then in the Value drop down select another MasterBorder from the drop down and press set on all. All selected pages will have their MasterBorder changed.
You can set the file extension on a group of pages in the same way.
This can be done for MasterBorders, Page Names, Page Titles, Navigation Buttons, Banners, or File Extensions
You can work with multiple pages from within all of the property palette's tabs I.E. you can mark several pages done or Don't Publish or change their display colors or protect several pages at once.
Management Tab: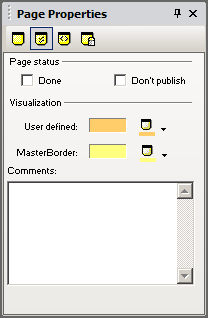 Page Status: You can mark a page as Done and a small green check icon will display in the top bar for that page

Don't Publish: When you mark a page Don't publish all reference to that page is removed from the site project. The HTML is not generated, any links to that page are removed and a red X icon appears in the top bar for that page

Visualization: You can select different colors for each page or group of pages by using the User Defined option and the color picker. If you select from the MasterBorder option all pages that share the same MasterBorder will show in the color you pick for one of them.
Comments: You can enter comments for each page. These will become a part of the page but not appear anywhere outside of the Fusion product.
Meta Tag tab: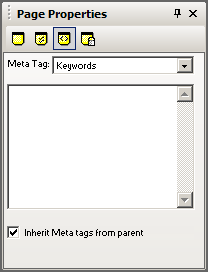 You can select from a drop down of meta tags and enter the content for each tag in the input box. Always start with your home page and enter the basic ones then on the child pages you can check the Inherit Meta Tags from Parent box and all of the meta tags that you placed on the page above will be included in the page you are working on as well as any of the page spacific tags that you can enter for each page such as page description.
The predefined Meta Tags are: Abstract, Author, Contact Address, Copyright, Date, Description, Distribution, Expires, Generator, Keywords, Language, Public, Rating, Refresh, Revisit After, and Robots.
Protection Options:
You can set Protection Options for each page of your site so that protected attributes cannot be changed.
Protect Page from Deletion: Stops a page from being deleted
Protect Page from Copying: Stops a page from being copied and pasted within the Fusion product.
Protect Page from Move: Stops a page from being moved in site view
Protect from Adding Child Page: Prohibits you from adding a child page below this one.
Protect Page Content: You can disallow any editing in the layout or MasterBorder or you can allow only text editing in those areas. With these unchecked any part of the page can be edited. You can select to have the page inherit the Protection options from the parent page.
Did you find this tutorial useful? Would like to view all of our tutorials and support pages?
Join the NetObjects Fusion Users Group Community