If you are writing pages in PHP, ASP, Cold Fusion, or JSP all of these pages need to have a unique extension so that the rendering engine associated with each language recognizes them as special pages and handles them in a different way than standard html pages.
Some web hosts may require that your file extensions be htm instead of html. You can select htm as the extension on all published pages from one location. If you already have pages with the html extension make sure that you delete all instances of the html extension pages then regenerate the entire web site to avoid links to orphan html extension pages.
To set the default extension of every page generated with NetObjects Fusion
From Publish View select the publish view Icon




Click the the Advanced Publish Settings link on the properties palette




Select the direct entry button and enter the extension you need



All pages will be generated with this extension as the default file extension.

To set an individual page to something other than what you have chosen as your default.  In  Site View change the extension on the individual page from the custom names input box.  File extension settings made at the page level via the custom names dialogue box over ride the global setting.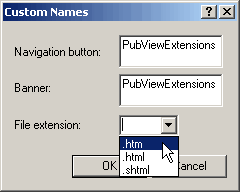 View a tutorial that shows you where these individual page extension settings are located
Did you find this tutorial useful?
Do you want to keep this resource online?
Make a donation to keep gotFusion alive
This page was written by and is maintained by turtle