User-driven Features

Every new feature, enhancement, or fix in NetObjects Fusion (NOF) 7.5 was driven by your requests. If your favourite gripe about NOF X is not addressed in 7.5, you may want to upgrade to 7.5 anyway, and wait to see what's in store for NOF 8.0.
What's in 7.5
Follow the links in the list below to summaries of each new feature.
Summaries may contain links to further information, including full Team gotFusion reviews or tutorials.
New

New

New

New

New

New

New

New

New

New

New
E-commerce Catalog Builder
Build and manage your online sales catalog in Fusion
Shopping carts
QuickBooks™ integration
International payment options
top of page | back to feature list
User Profiles
Maintain individual site projects lists
Maintain individual user settings preferences
Switch from one profile to another without system logoff
top of page | back to feature list
Style View Improvements
New tools to organize, and manage your SiteStyles
Superb for developers of Fusion SiteStyles and Templates
Store SiteStyles in multiple locations (local, CDRom, network, online)
Seamless access to Online SiteStyles from gotFusion, BitMotion, NOF-Club.de and others
More than twenty new SiteStyles
Full gotFusion version 7.5 Style View tutorial
top of page | back to feature list
Photo Gallery Improvements
New options for importing and displaying images
New thumbnail and image frames
New output settings
New ALT tags to thumbnails & images
New save Gallery profile settings for re-use
top of page | back to feature list
HTML Insertion Points
Start of Page (before the <HTML> tag)
End of Body (before the </BODY> tag)
End of Page (after the </HTML> tag)
top of page | back to feature list
Auto Updates
Option to install online
Option to download from a mirror site
Option to download and install later
top of page | back to feature list
File Dialog Improvements
Requires Windows 2000 or newer
Add Shortcuts to favourite folders
Back button
Resizeable window
top of page | back to feature list
Spell Checker
Autocorrect (like MS Word) highlights problem words
Enable or disable the summary report after running spell check
top of page | back to feature list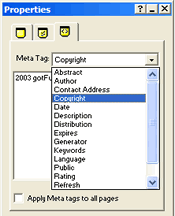 Figure 1 — Meta tag Manager in Site View

META Tag Manager
Third tab on the New Style View Properties palette (Figure 1)
Set META tags for every page
Pages can inherit the META tags from parent pages
Set specific META tags to specific pages
A full gotFusion tutorial on this feature is coming soon
top of page | back to feature list
Online View Improvements
Redesigned, new look & feel
Customizable Site Project List (full gotFusion Review)
Improved setup features for WebSite Pros web services
top of page | back to feature list
Incremental Publishing Manager
top of page | back to feature list
Did you find this tutorial useful? Would you like to view all of our tutorials and support pages?
Join the NetObjects Fusion Users Group Community