Table of Contents
---
This article discusses—
Changes to NetObjects Fusion (NOF) Style View in version 7.5, and
Some tips on how to use Style view in NOF 7.5.
Who can benefit from reading this tutorial?
If you own older versions of NOF– specifically versions 1.0 through 7.0 – this article is especially for you.
If you are brand new to NOF with version 7.5, please ignore parts of this article that talk about differences between 7.5 and earlier versions. Focus instead on learning the Style View features in version 7.5.
What's New & Different?
Style View receives a significant makeover in NOF 7.5. The changes both new and veteran NOF users will need to learn are in–
The left pane of Style View, and
The new menu options in Style View.
Getting Acquainted
Every one of the changes to Style View–
Came about as a result of NOF user requests, or
Made more sense to the Fusion engineers than leaving Style View alone.
Left Pane
The left pane is no longer just a single list of styles. As you can see in Figure 1, NOF organizes SiteStyles as follows:
Active Site Styles
Local Site Styles
Online Site Styles
Additional custom SiteStyle sources you can set up (see Add SiteStyle Source)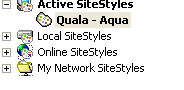 Figure 1 — Screenshot of left pane
We'll look at what these new categories do after we take a quick look at the Style menu.
Did you find this tutorial useful? Would like to view all of our tutorials and support pages?
Join the NetObjects Fusion Users Group Community