Current
You want to use A scrolling window to show content but you do not want to use an Iframe because of the cross browser compatibility issues involved with Iframes.

The effect of an Iframe can be achieved by using the multi line text box from the forms toolbar If the Forms Tool bar is not shown click View > Forms Tools from the NetObjects Fusion menu bar
You will receive a warning that you need to set a form area, just click OK and ignore the red exclamation point that will appear in the palette and in your forms multi line area.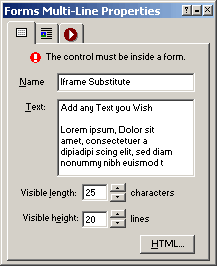 Enter the width in characters in the input area marked Visible Width

Enter the height in lines in the input area marked Visible Height

Enter any text you wish in the box marked Text and it will snow

Your Iframe substitute will look like the one to the right.


Important: To make the content of the Multi-Line input so that it cannot be edited, press the HTML button and insert the following on the Inside the Tag tab readonly="readonly"
Formatting the Iframe substitute to blend with your Web site
In order to place text and background formatting in your multi line input box you must use CSS formatting. This is enabled from the Current site General Properties Tab. This properties palette can be located from the NetObjects Fusion menu bar choice of Tools > Options > Current Site. Place a tick in the Cascading Style Sheets radio button to enable CSS formatting.
There is a full gotFusion tutorial covering CSS formatting of forms elements that will cover everything you will need to know to get your multi line form input box to show in the font family, size, and color as well as setting the background color of your Iframe substitute to perfectly match your web site
This page was written by and is maintained by turtle