A Typical Web Site Navigation Structure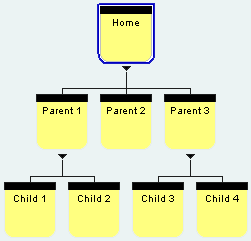 The organization of a site project's navigation is based on the layout/orientation of the pages in Site View.
A simple web site like the example on the left has a home page, 3 pages below the home page (called parent 1-3) Parent 1 and 3 have 2 child pages.

Using default settings in the Nav Bar component when the site visitor is on the Home page they will be shown a Nav Bar that has Home, Parent 1, Parent 2, and Parent 3.

When the site visitor goes to the Parent 1 page of the website they will not only be shown the Home and Parent pages of the web site but the Nav Bar will expand to allow navigation to the Child 1 and Child 2 pages(those pages under the current Parent 1 page) The same is true when the visitor goes to Parent 3 they will be shown navigation to take them to Child 3 and Child 4 pages, thus offering the site visitor complete access to your website automatically. If you do not want to have the Child pages shown on your site navigation uncheck the box called Include Child Sub pages on the Nav Bar Properties Palette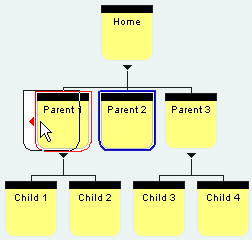 To Change the Display Order of the Navigation Bar on your web site just drag any folder to any new location and regenerate your web site. The order of the website in the Nav Bar will reflect how you have your pages ordered in Site View. Since you are making changes that will show on every page you must regenerate the entire web site for the new navigation to show on every page

If you drag parent 2 in front of Parent 1 your Navigation Bar order will be Home, Parent 2, Parent 1, Parent 3. This is all done automatically for you based on where you position your pages within site view

You can also select the Custom button on the Navigation Properties Palette and place any links anywhere you wish, but that is another tutorial
Did you find this tutorial useful? Would like to view all of our tutorials and support pages?
Join the NetObjects Fusion Users Group Community
This page was written by and is maintained by turtle