Custom Names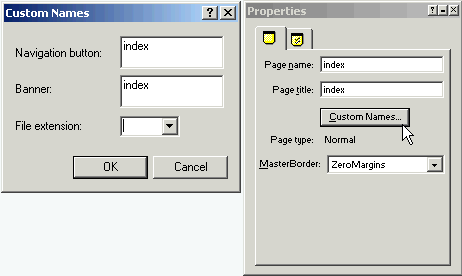 The Custom Names button will bring up the Custom Names sub palette. The name of the Navigation Button and the page Banner can be changed in the input boxes. By default the Page Name is written to Page Title Navigation button and Banner properties.  You can have up to 2 lines of text on a Banner or Button, press the Enter key on your keyboard to go to the 2nd line. Change the File Extension from the drop down box or directly enter another one such as php or cfm or shtml. Changes made to the file extension at this location override the default settings you have made in Publish View.  This is where you would make a change to one page only. Fusion uses the page name you enter when creating a page as the default button and banner name. You should edit this after creating any new page

Page Management Properties tab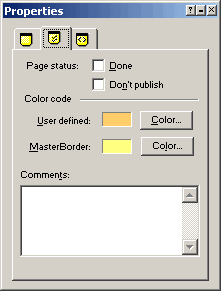 The Page Management tab has check boxes for Page Status. 

Putting a check in the Done box will place a white check mark in the top bar of the Page Icon.  Use this to keep track of which pages are finished.  That way you can look at the site structure and tell at a glance what pages still need to be worked on.
When the Don't publish check box is checked that page will not be created but all clld pages under it will be generated, pages marked Don't publish will have a red dot in the top bar of the page icon.  For a tutorial on the usefulness if this feature see my Hiding Pages from the fly out menu tutorial.
The Comments section is for any comments you wish to note on this page.  Comments are not part of the HTML document and are only visible in NetObjects Fusion on this palette
Besides being able to enter meta tags in the Site Properties Meta Tag palette you can also enter meta tags via MasterBorder and Layout HTML insert locations.